Available for private and small group classes.
Students develop gross motor coordination, dance, acrobatics, and curriculum based movement inquiry.
Contact me for further info.
"How can you think with your body?"
I am
a movement specialist and educator for youth ages 3-18. I teach private and small group classes that focus on developmental movement patterns, and gross motor skills specific to students' needs and desires. Through acrobatics, creative movement, and circus arts my classes support students to develop the strength and confidence necessary to successfully and safely problem solve with their mind and body. I teach through positivity as a conduit to confidence in physical, emotional, and social contexts.
My Background
combines elite gymnastics, modern, and aerial dance. I received my BA in Dance and Psychology from Bard College. I am inspired by Body-Mind Centering. I am also inspired by Axis Syllabus which is a movement analysis program grounded in neuromuscular patterns and efficient functional movement.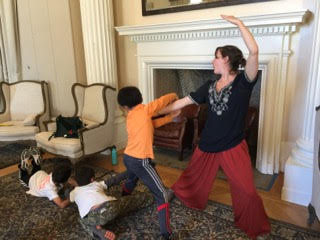 I Teach
creative movement, acrobatics, and circus arts at various schools, studios, and organizations around the Bay Area. I currently teach creative movement at ODC, and The Nueva School. I teach creative storytelling at the Nueva school, Circus Arts at The Urban School, acrobatics at Zaccho Center for Dance Aerial Arts, and BANDALOOP.
Logistics
I work out of the beautiful COAST SF, an Occupational Therapy studio in SF. I am available to teach in the home if space permits. I have a portable gym and am fully insured.
Rate depends on space, and number of kids.
Also available for birthday parties.
For further inquiry and information contact me at wicks.helen@gmail.com or 707-799-5636